MEDICAL SPA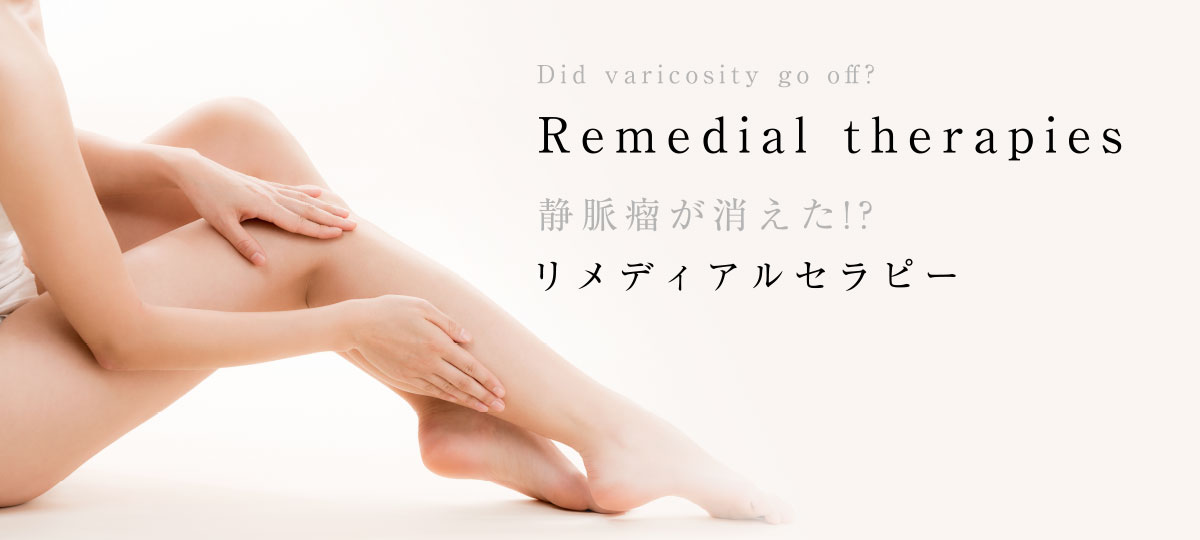 When the discomfort of varicose veins gets bad, in the past the only remedy was surgery but it has been announced at the International Conference on Natural Therapy that Remedial Therapy is effective for the lower extremity varicose veins!
What is remedial therapy
It is a hands-on therapy developed in the UK from Australia and Europe and is called Remedial therapy.
Remedial massage is one of the accepted private therapies abroad and is an effective technique that is recognized the world over and covered by insurance.
It is a therapeutic oil treatment aimed at improving the discomfort of the body and can provide sensation and satisfaction.
Shoulder · neck · stiff back, shoulder joint pain, back pain, knee pain, swelling and sluggishness, effective relief of muscle fatigue and stiffness by warming and preventive tactics after sports.
悪化すると今までは手術をするしかなかった下肢静脈瘤にも
リメディアルセラピーが効果的であると国際自然療法学会で発表されました!
リメディアルセラピーとは
イギリス発祥でオーストラリアや欧州で発展普及している手技療法で、 Remedial therapiesと言い、
直訳するとRemedial(治療的な)therapies(療法の集合体)です。
リメディアルマッサージは、その中の1つのテクニックで海外で民間療法として保険適応も認められてるほど世界レベルで注目のある、効果高い技術です。
身体の不調を改善することを目的とした治療的オイルトリートメントで、その時だけの気持ちよさだけでなくプラスαの体感と満足度を与えることができます。
肩・首・背中の凝り、肩関節痛、腰痛、膝痛やむくみ・気だるさ、スポーツ後の筋肉疲労や硬直などの暖和や予防にとても効果があります。
ICNM -- The International Congress on Naturopathic Medicine announced a joint research project in London!

In July 2018, The International Congress on Naturopathic Medicine announced it conducted research in collaboration with doctor and therapist Miyuki Haga. The contents of the announcement was their findings that there was an improvement of the lower extremity varicose veins by combining aroma oil and remedial massage.

What is the lower extremity varicose veins?

"Lower extremity varicose veins" is a varicose vein that can show up in the legs and is caused by long-lasting bad circulation. Something like a swollen bump can appear on the calves and the veins on the back of the knees. Although there are no subjective symptoms in most cases, eczema, pigmentation, ulcers and other dermatitis occur when it gets worse.

ロンドンでICNM国際自然療法学会が開催され、共同研究を発表!

2018年7月にICNM国際自然療法学会でドクターとセラピスト芳賀みゆきが共同研究で発表いたしました。学会発表の内容は、下肢静脈瘤の弁機能をアロマオイルとリメディアルマッサージとの組み合わせにより改善することがみられたという結果です。

下肢静脈瘤とは?

「下肢静脈瘤」とは脚にできる静脈瘤のことで、脚の血行が悪い状態が長く続くことが原因で起こります。ふくらはぎやヒザの裏の静脈がボコッと膨れてコブのようになる病気です。自覚症状はない場合がほとんどですが、悪化すると湿疹や色素沈着、潰瘍などの皮膚炎が起こります。
Up until now, it got worse and I thought I had to have surgery..

As a result of performing the treatment using a specific oil and specific massage technique once every 2 weeks, the function of 14 points among 19 improved and the varix has disappeared. The remaining four areas are not perfect, but they were headed in a good direction.

今までは、悪くなり手術を待つしかなかった…

2週間に1度×5回、特定のオイルと特定のマッサージ技術を用いて施術をした結果、静脈瘤19箇所の内14箇所の弁機能が改善し静脈瘤がなくなりました。残りの4箇所も完全ではありませんが、良い方向へ向かっていました。
MIYUKI HAGA

Therapist

Salon Natural Method Representative
Natural Method Academy School Principal
IFA International Federation of Aromatherapists Japan Representative and Certified Therapist
Representative of the Japan Remedial Therapy Association

After graduating from an Australian Naturopaty vocational school, she began working in a local spa. After returning to Japan, she opened and managed the Natural Method Salon as the owner and therapist.
Using the concept "aroma in life", she produced spa products and Spa Holidays.
IFA International Federation of Aromatherapists Japan Representative (2007 -- present)
Representative of the Japan Remedial Therapy Association (2018 -- present)
The future self shines. The work going forward will be that image that is beautiful and will continue to be through scent and therapy.

芳賀 みゆき

セラピスト

サロンナチュラルメソッド代表
スクールナチュラルメソッドアカデミー校長
IFA国際アロマセラピスト連盟日本代表及び認定セラピスト
日本リメディアルセラピー協会代表

オーストラリア自然療法の専門学校を卒業後、現地のSPAで働き、帰国後は、オーナーセラピストとしてサロン経営、フランチャイズ教育を行う。直営サロン:ナチュラルメソッドの代表。
「生活の中にアロマを」をコンセプトに香りにまつわ商品、Spa holidaysプロデュース。
IFA国際アロマセラピー連盟日本代表(2007~現在)
日本リメディアルセラピー協会 代表(2018~)
本来の姿が自由に輝き、その姿が美しい姿である様に香りとセラピーを通して活動している。

24HR ONLINE BOOKINGRESERVATION ▶

24HR ONLINE BOOKING予約はこちら ▶